When it comes to blogging, it's safe to say that you're always going to want to be able to do a good job. With more of us blogging and freelancing from our home officers (Aka: our sofas!)we tend to find ourselves dealing with a lack of motivation and lots of distractions. So to make sure that you can become your most productive self, my top productivity tips should help…
Set Actionable Goals
First of all, you're going to want to set yourself some SMART goals. When you work out what you want to achieve, and then break that goal down into actionable steps, you'll find it's much easier to manage and get done. SMART goals need to be measurable and have a certain time-frame; so be specific- what do you need to achieve by lunchtime, the end of the day or the end of the week?
Minimise Distractions
Next, you're going to want to ensure that you can't be distracted too easily. One of the best ways to do this is to ensure that there's nothing around you that can be distracting. Turn off your emails, log out of your social media, move away from distracting people and see what difference this can make. I also use the 'forest' app on my IPhone; in which users plant a tree for every 20 minutes of time they don't check their phones!
Use Apps
Finally, you should also think about using apps to help you stay productive too. You'll find that there are many different kinds that can help you to get a lot of work done and stay focused on what you need to do. Just take a look at the below infographic on some key apps that might work for you….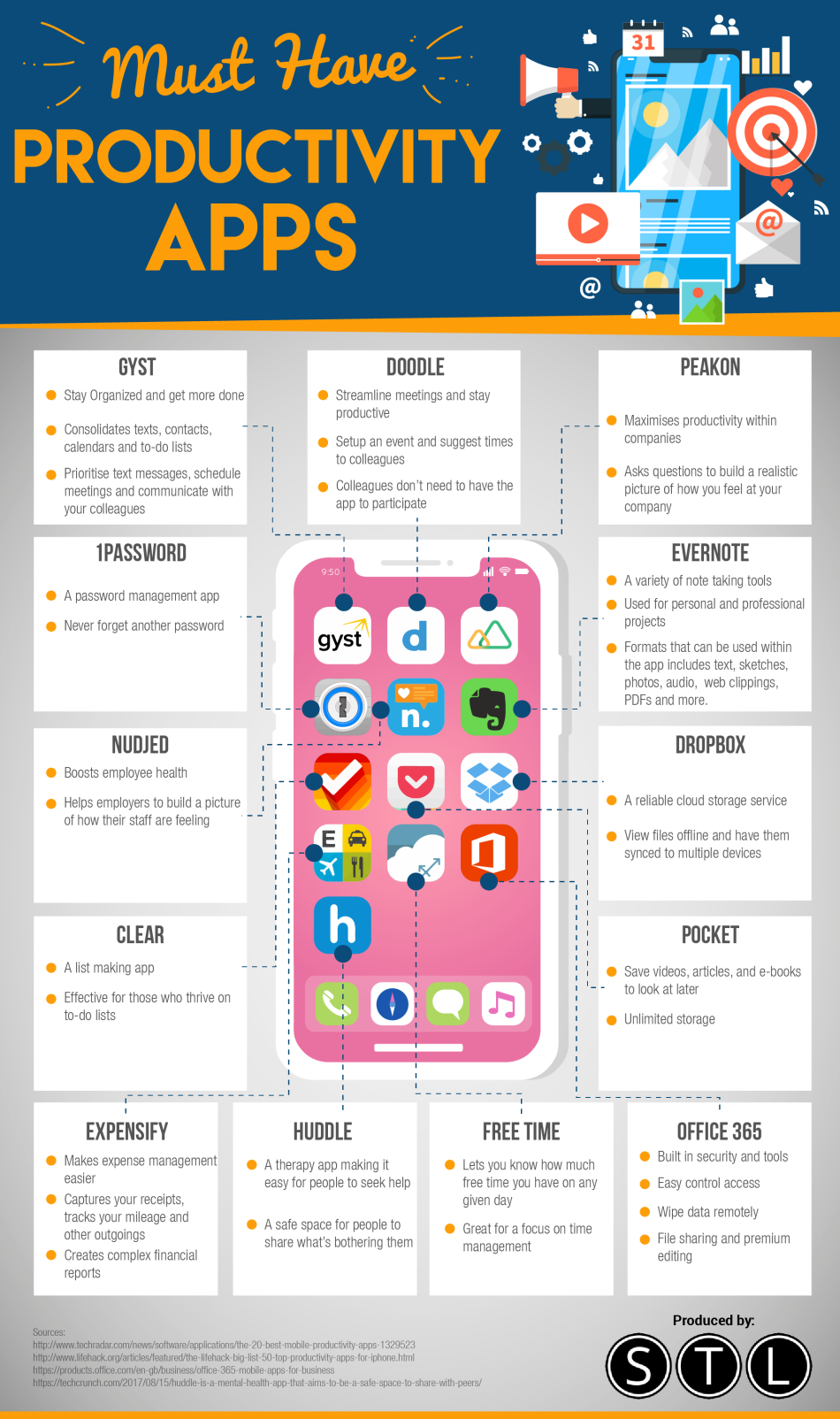 Infographic Design By STL productivity apps
I've heard of lots of these ('1password is something I've been meaning to try for ages) but I'm definitely going to try 'Free Time' and 'Gyst' as time management is still something I struggle with!
Let me know your favourite productivity tips below!
*Collaborative Post*